Slots With Best Bonus Games
Don't you just love a good slot game with a bonus included in it? We do – in fact, the more bonuses we can find, the better! There are two ways of finding the best bonus game slots online today. You could go out and find them yourself or you could simply read our suggestions below. We've tried these games and can confirm there are some excellent titles to try here. Some of these certainly appear in our favorites list. We're continually finding more with bonuses included too, so watch out – we might just expand the list occasionally as well.
Chests of Plenty
The title of this one might reveal we are going to play a pirate-themed slot. There are two bonuses to enjoy here as well, making the game even more appealing. Both are related to treasure, as you might well expect when playing a game based on the pirating life. If three chests should appear on the reels, one will open to reveal its contents. Three identical gems will grant you a prize before the next chest opens. However, if they don't match, it's back to the main game. The other bonus gives you the chance to view one of three treasure maps. Will you begin your search for bounty on Booty Island, Isle of Plenty, or Jackpot Island?
Jurassic World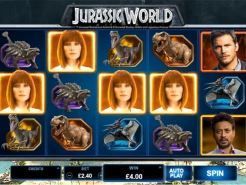 Microgaming released this one as a movie tie-in and it looks superb. The bonuses you can win in this dinosaur adventure story bring you into three separate areas of the dino park. Explore the Creation Lab, check out the Gyrosphere Valley, or head for the Raptor Den. Okay… so we're not keen on the sound of the last one, but you could end up winning prizes from the free spins and features granted in each version of the bonus, so maybe it's not so bad after all. Lots of imagery from the movie is included, with many of the best dinosaurs romping into action as well. It's a very engaging slot to play.
Jurassic Park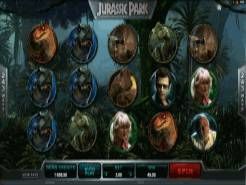 Should we choose another dinosaur-themed game alongside Jurassic World? We think so, because this is the original slot that still looks impressive today. While lots of games require three scatters to trigger the free games (as does this one), we also get an added perk for those spins. With five dinosaurs each lending their names to a variation on the free spins, you never know whether the T-Rex, the raptor, the brachiosaurus, the dilophosaurus, or the triceratops will come to your aid. Yes, they can be helpful rather than just munching humans! It means you can enjoy a different spin, excuse the pun, on the free games feature every time you manage to trigger it. The 3D images included here make the most of the fearsome dinosaurs too – especially the T-Rex itself.
Rainbow Riches
How could we not include this in our selection of great slot games to play? You may think it's not worth trying to start with, mainly because of the lack of free spins to be won. However, there are three separate bonuses to access if you decide to play, so perhaps it is worth it after all. You could step onto the Road to Riches to see how far you can go. Perhaps the Wishing Well bonus will see you choose a well containing many coins. Another possibility is to trigger the Pots of Gold bonus feature. You'll meet the leprechaun in this game, as he appears with various pots of gold spinning around his head. Just one of those pots contains a prize for you, so how much could you win if you play?
Rocky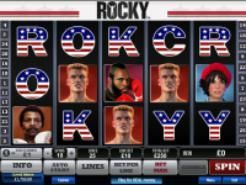 Did you see the original Rocky movie? It helps to like boxing or have seen the movie to appreciate this slot. It may be an older one, but it still stands up nicely against lots of modern movie-themed slots. Since the bonus focuses on Rocky getting involved in a match against one of his opponents, you need two boxing gloves to appear on the reels to trigger it. You can then watch the boxing match take place between Rocky and your chosen opponent. This 'sit back and watch' element of the bonus might seem strange but watching a ten-round match ties in with the theme of the movie. Rocky doesn't need to win the entire match to win you a prize, either. Instead, you just need him to win a round to get you a coin prize. Obviously, the more he wins, the bigger your prize will grow.
Tower Quest
We've chosen a few well-known titles so far in our list. Somehow, we think you may not have heard of Tower Quest before. There are good reasons why we have chosen it though, as you will see. This Play'n Go game delivers a fantasy theme that works superbly well and benefits from some stunning design elements. Note those vials on either side of the reels too – the blue and red potions you will sometimes find as you spin the reels will be collected in those. There is a separate Wizards Card Game feature, where you try and beat the cards held by the wizard himself. You can win free spins by filling the blue or red containers as indicated, with various bonus features built into those spins depending on how much liquid is collected.
The Pink Panther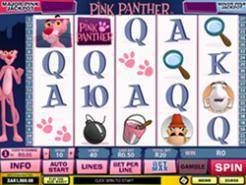 This is one of our favorites, partly because we used to watch the TV show when we were kids! The Pink Panther slot could have been a disappointment, but there are so many bonuses built into this one, you will love settling down for a few spins of these reels. One downside is that the five bonuses (yep, five of them) are only ever triggered at random. There is no way of doing so as you play, so you've got to hope your luck is in. If it is, you could end up playing a few in quick succession. There is the Pink Pow bonus, the Crack the Pink Code bonus, the Wheel of Pink bonus, the Color Pink bonus, and the Pink Trail bonus. Each one takes you in a different direction, so they provide a lot of variety to your gameplay. There are two progressive jackpots to be won as well – Major Pink and Minor Pink, of course – so you never know, you may get lucky and manage to scoop one of those too.
Charms and Clovers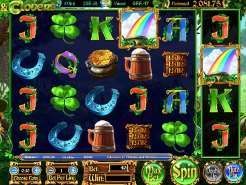 We've all tried games based on the Irish luck theme, haven't we? The best of the lot though, surely, is Charms and Clovers. Not only do we get beautiful 3D graphics here, we also get the chance to play on a five-reel game with an added sixth reel that can produce an excellent bonus opportunity to play. There is a Money Wheel, a Mega Symbol bonus, a Golden Bonus, and a Pots of Gold bonus. The sixth reel comes into its own in another way too. If the wild appears on the sixth reel, it can maximize a five-icon win appearing over the main set of five reels. Now that is the sort of added perk we can really enjoy! This is one slot you can happily look at for ages, too.
The True Sheriff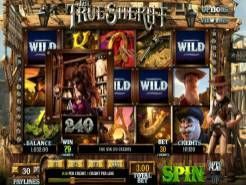 Is The True Sheriff from Betsoft a true delight to play? We think so, especially as it appears in glorious 3D and packs in some intriguing features as well. The background and imagery set the scene, while offering a Wild West theme that delivers many of the themed bonuses you will see here. For example, one gun on the middle reel triggers the Wild Guns feature. Meanwhile, if the gun appears in between the Sheriff himself and the enemy over the first three reels, you'll get to play the Gun Showdown. It's heads or tails to figure out who is winning here. The Sheriff's badges are also important in this game. If you get three or more, you are guaranteed to win at least 10 free spins. You'll win more the more badges you find. Those badges are handy to collect as you play too, as the total collected during the free games are converted into a coin win once the free games are over. You'll be looking for badges everywhere, we guarantee it!
Avalon II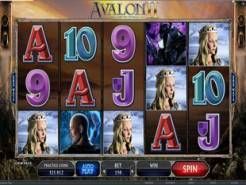 If you played the original game, we doubt you will want to miss this one. Based on the legend of Camelot, you can look for various locations on a map. All these locations are built into the Grail Bonus round. The idea is that when you trigger the bonus, you will start at the first point on the map. Once you have played it and returned to the base game, you can then try and trigger it again. If you do, you will return to the map to play in the second location, with a different bonus on offer. There are eight different rounds to play in all, making this a superb game that offers lots of playability and extended value. We'd advise you to make the minimum bet to make your budget last as long as possible when playing Avalon II. It has been designed to continue giving you entertainment for a long time, that's for sure. It's also a good one to return to.
Watch out for new bonus slots coming soon too
If there is one thing you can guarantee software developers are working on right now, it's slot games that offer quirky and unusual bonuses to play. We've selected just 10 of the current crop above, but there are many others out there waiting to be enjoyed. With new ones just around the corner, which ones will turn out to be your favorites?