Indulge in the New Game Tournament and Play Caribbean Gold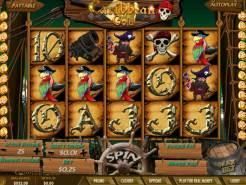 Play Now
If you get goosebumps every time you hear about a brand new slots tournament, it's time to get excited. Lincoln casino and Liberty slots casino have both added the new game Caribbean Gold to their already-successful mix of slot games online today. Now things are going to get even more interesting, as this game has been chosen as the focus of the New Game Tournament that is all set to get underway!
When does the tournament begin?
Very soon – on Thursday March 31st, in fact. That means you have very little time to get going if you want to grab a slice of the action from the very beginning.
When does the tournament end?
The New Game Tournament finishes on April 7th, which means it will run for one whole week.
What could you win?
According to the details released by those in the know, there is $1,000 up for grabs. The winner takes it all in this great tournament, so make sure you are a part of it in order to be in with a chance of winning.
Why play Caribbean Gold?
When you get your first look at this game, you will see why it has been chosen as the game for this tournament. As you might suspect from the title, the game focuses on pirates and it has lots of different features to look out for. You can get started by betting a minimum of one cent – just a cent! – on each line you want to play. You can get as much as $150,000 as the top prize in the main game, while the bonus level could deliver a prize as big as $37,700. With a wild symbol and a scatter in play as well, it's no wonder more and more people are giving this game a try. You'll see just why it is among the favorite games on these sites when you give it a go, and it could deliver some seriously good prizes for you.
Check out the brand new tournament coming soon to your favorite casinos!
Yes, it's time to keep an eye out for this tournament when it begins. It could soon be time to enjoy playing this game if you are ready to do so. And with the chance to take part in a tournament too, it couldn't get any better than that, could it? Make sure you're in the right place to have fun!